Aspire to have a zero waste lifestyle? At Énergir, you can do your part!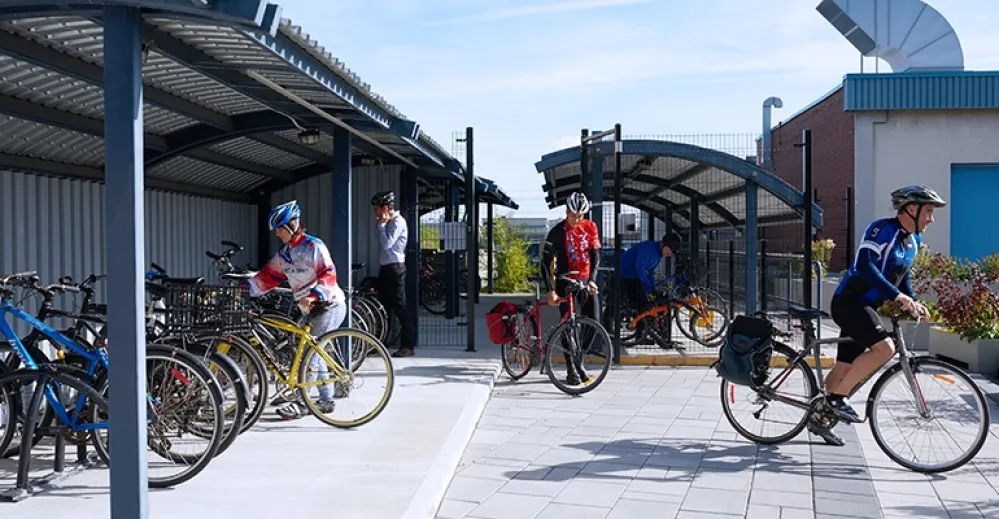 This week, we celebrate Earth Day. This is a time when we're more inclined to think twice about our how our environment is doing and, by extension, about the footprint our everyday actions leave. At Énergir, eco-conscious choices are not only encouraged, they are a part of a sustainable development process that reminds us how important it is to incorporate them into all aspects of our working lives.
The most concrete initiatives largely concern transportation, and there are plenty of options available to us. In the early morning, for example, you can start your day off right by taking public transit or carpooling. Énergir has registered with the STM's OPUS & Cie program to offer us great deals on public transit fares. Our head office is just steps away from a metro station, to boot! If you prefer to drive, reserved parking spaces are available in a park-and-ride lot specifically for carpooling. Electric car drivers have access to charging stations too. With secure bike racks and on-site showers, sporty types have everything they need if they want to ride their bikes to work on nice days. In fact, some thick-skinned folk even ride 12 months a year! There's definitely no shortage of options to help lower our GHG emissions.
Making more environmentally-friendly choices also means cutting back on the amount of waste we generate, and lunchtime meals can be especially challenging. Whether it is cafeteria food or a homemade lunch, you can put your food waste to good use thanks to a compost box at the head office, which produces six tons of compost per year on average. Other materials are put in recycling bins: we reduce, reuse, recycle and compost, but we do not throw things out! Twice a year a draw is held among interested employees to win compost, with 30 bags weighing 40 pounds each handed out in all. Although composting isn't offered at the regional offices, other exciting initiatives are being introduced to improve waste management. Most notably, since last December, recycling has been picked up every two weeks, and all of the employees have really gotten involved.
When the good weather finally gets here, we will be able to buy local and/or organic food baskets and pick them up on site every week. Buying from the region's farmers not only means eating produce grown in Québec, it also means supporting local farming and the local economy.
In our very own Centre-sud district, the nearby bike paths, parks and recreation centre are definite pluses if you're looking for ways to get moving during breaks and stay in shape. Self-serve bicycles are available if you want to take a leisurely ride or run some errands on your lunch break. Here, at Énergir, we feel there are many initiatives in place to help us lead healthier, more eco-conscious lives. So, it is up to each of us to seize those opportunities and make winning choices to foster a healthier environment.
You may also like...