TOHU: From Earth to stars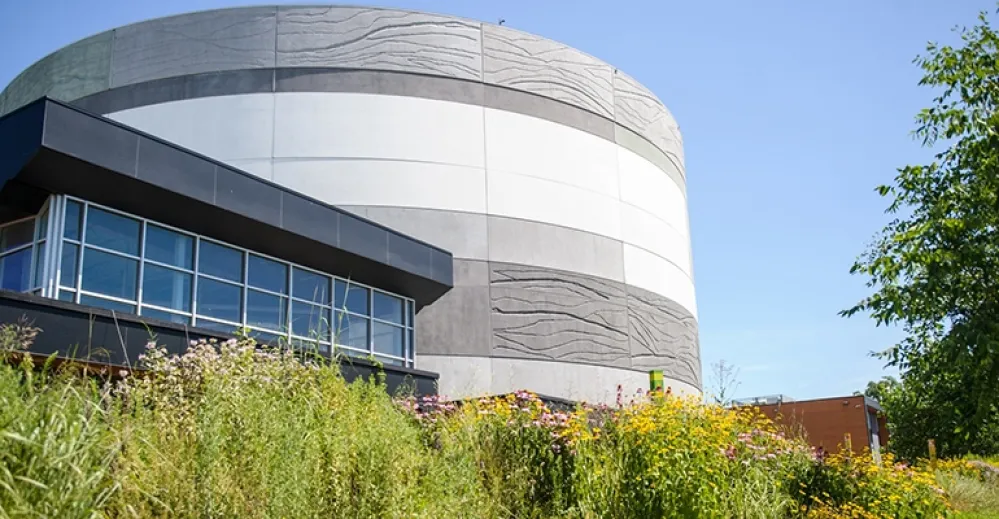 For nearly 15 years, TOHU has been synonymous with the circus to Quebecers. A one-of-a-kind venue, TOHU hosts an exciting array of shows, exhibits and events every year, making Montréal an international leader in circus arts. What's more, TOHU has become an enviable example of sustainable development.
In addition to its circus (culture) and human (community relations) dimensions, TOHU's mission also focuses on the Earth, embodying environmental respect, stewardship and protection in its spaces and facilities, and in every experience offered to its visitors.
Spotlight on ecology
Every year, TOHU educates tens of thousands of young people and adults about current environmental issues and eco-citizenship through interactive activities, customized tours, educational brigades, events and promotional campaigns. Thanks in part to its newly formed partnership with Énergir—the new Gaz Métro—TOHU will be able to pursue its outreach initiatives and environmental education program, and even improving a biomethanation component. This technology produces renewable natural gas from table scraps and other organic matter, while reducing greenhouse gas emissions and the amount of waste sent to landfill sites.
Green that is worth its weight in gold
The TOHU Pavilion boasts LEED Canada Gold certification, a mark of excellence recognizing the building's sustainable nature—from its design and construction to its operation and use. The Pavilion's environmental performance relies on a variety of techniques and technologies, including a geothermal system, biogas heating, natural ventilation, recycled architectural elements and green roofs.
A space to be proud of
The TOHU Pavilion acts as the access pavillion for the Frédéric-Back Park, as a part of the Saint-Michel Environmental Complex . This vast urban green space, stretching over 192 hectares, was at one time a limestone quarry, later a dump, and is now one of North America's biggest environmental rehabilitation projects.
Something organic for everyone
TOHU's vegetable garden produces a healthy supply of organic vegetables that can be picked by employees and visitors and that are used at its bistro in the summer. The site is also home to two bee hives containing 80,000 to 140,000 bees. Endangered in many parts of the world, the bees at the TOHU facilities are free to pollinate the Saint-Michel Environmental Complex, and the honey they produce is sold at the TOHU's boutique.
Everything can be recycled
The naturalized basin that runs along the TOHU administrative building collects rainwater from the roof using a geotextile membrane and a layer of clay that retains the water. The water then evaporates or percolates into the soil. By holding the rainwater, the basin helps avoid clogging the City's storm sewer system while also feeding the aquatic plants in the neighbouring marsh that is present on the TOHU's grounds.
You may also like...