Centre-Sud puts on a show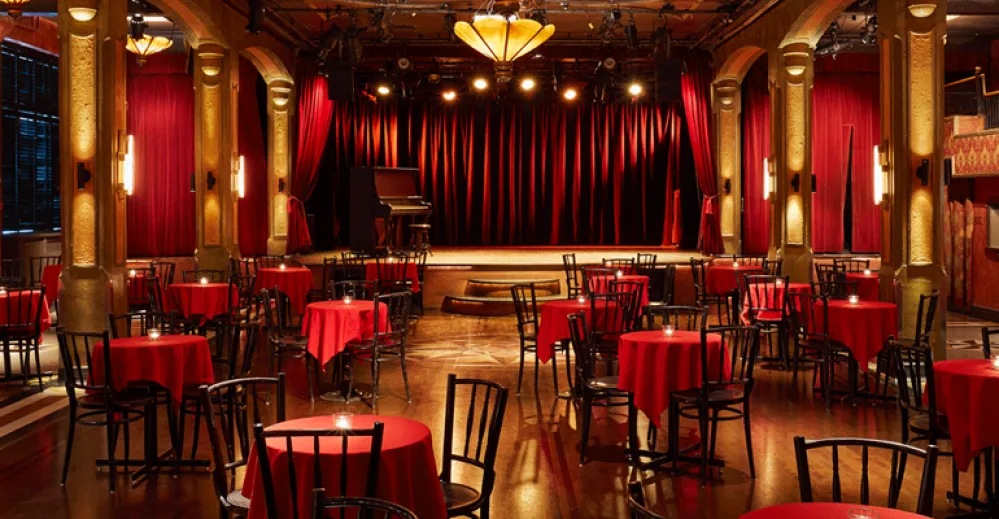 When it comes to cultural activities, the Centre-Sud of Montréal is up there with the best of them. The neighbourhood is brimming with theatres, concert halls and comedy venues. Let's take a short guided tour.
The Centre-Sud is one of Montréal's oldest neighbourhoods. It took off in the early 19th century with its port facilities and the arrival of Canadian Pacific, which attracted a large number of factories. After undergoing many transformations over the years, it has grown into an urban village where people from all walks of life—be they families, workers, artists, immigrants, young, old, poor or wealthy—rub shoulders.
Its many cultural locations are a solid reminder of its eventful past.
Pioneers of Montréal's nightlife
Inaugurated in 1900, Le National is one of the oldest theatres in Montréal. After a slow start, it enjoyed its heyday in the 1940s under the direction of Rose Ouellette (La Poune). A stream of Francophone burlesque performers reigned supreme, until television stole the show. From the 1950s onwards, Le National was in turn home to a neighbourhood cinema, a Chinese cinema and a gay cinema, before becoming the rock'n' roll and Francophone music venue that we know today.
Then there's the Lion d'Or, founded in 1930. It, too, enjoyed great success until the 1950s, before garnering a reputation as a sleazy nightspot that led to it being shut down by Mayor Jean Drapeau in the 1970s. Reopened in 1987 by the owners of the Petit Extra restaurant housed in the same building, the Lion d'Or has evolved into a music venue known for its unique appeal.
And what about L'Olympia de Montréal, one of the city's most precious cultural and architectural gems? Built in1925 to showcase cinematic theatre productions, L'Olympia is today a favoured venue of some of the most famous musicians and comedians.
A hub for experimental theatre
With the renewal of theatrical form in recent decades, this very neighbourhood now boasts numerous halls and companies.
Founded by three emerging troupes in 1979 in a former fire station, Espace Libre is a space dedicated to experimental theatre. Actively involved in Centre-Sud's community life, its artisans go as far as inviting their neighbours on stage to recount their stories, and even offering them drama classes.
In 1994, Carbone 14, one of the founding troupes, left Espace Libre and launched Usine C. This multidisciplinary presentation centre features two black box rooms whose versatile space can be transformed into different scenographic configurations for theatre, dance, music, opera or other media art productions.
Meanwhile, in 1984, Théâtre Prospero saw the light of day thanks to the Groupe de la Veillée troupe. Named after the central character of Shakespeare's The Tempest, this theatre really shone in 1995 following extensive renovations.
Founded in 1975, the Théâtre de Quartier is tailored to young people, from early childhood to adolescence. Its playful, festive shows are designed to appeal to young audiences, through a fantasy world that is solidly rooted in real life issues.
The Ville-Marie borough also operates its own cultural and artistic venue, the Maison de la culture Frontenac. Founded in 1989, it is designed to foster the discovery and enjoyment of all artistic disciplines, and presents its shows, concerts and exhibitions for free or at minimal cost.
The number and diversity of these sites, of which this is a mere snapshot, demonstrate the cultural vivacity of Centre-Sud. New venues are regularly opening their doors, with this year's new kid on the block—the Comédie de Montréal—offering comedy and vaudeville in true café-theatre tradition.
In short, this culturally active neighbourhood will continue to draw our applause for many a day to come!
You may also like...