A greenhouse for all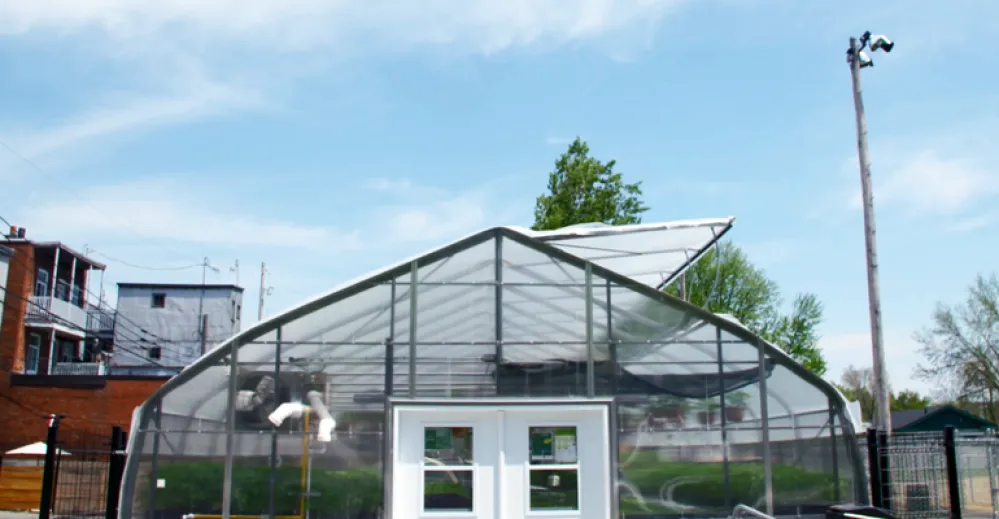 Joining forces around a shared mission to improve nutrition in the Centre-Sud district of Montréal, four community organizations have pooled their energy to create the city's first multipurpose greenhouse: the Quartier Nourricier project. Since the beginning of spring, a team of volunteers have been growing microgreens, herbs, seasonal fruits and vegetables which, once picked, are offered to the community.
More than just a greenhouse
Beyond the production of fresh produce, the community greenhouse organizes educational workshops. Public events centred around food and urban agriculture are organized every week, in addition to training workshops and activities for local youth. It also serves as an inspiring workplace for reintegrating young people who come to learn the ins and outs of a job, while gaining valuable work experience.
"The greenhouse plays an important role in the neighbourhood. While acting as a source of inspiration for the community in urban agriculture, as well as providing support for the proliferation of vegetable gardens and promoting a healthy lifestyle, it also serves as a catalyst for ideas and energy to drive this collective movement for transforming food in the Centre-Sud. Proof that it's possible to grow fresh produce in the heart of downtown in a spirit of solidarity!" explains Léonie Rouette Tétreault, coordinator of the Carrefour alimentaire Centre-Sud.
Feeding the community
Since March, 1,000 plants have been offered to local residents and community organizations. Food products are also delivered by bike and sold to the Énergir cafeteria and a few restaurants in the neighbourhood. You can also buy these products at the Marché Solidaire Frontenac, located on the esplanade just outside the Frontenac metro station. This hyperlocal food distribution channel targets a specific community, with a view to addressing the direct concerns of its members. The greenhouse project sprung to life to resolve the existing food desert and compensate for the absence of healthy and nutritious options available to the Centre-Sud residents.
A unifying project
The Quartier Nourricier greenhouse is the result of a cooperative effort which unifies four community organizations: the Carrefour alimentaire Centre-Sud, CDC Centre-Sud, Sentier Urbain and Société écocitoyenne de Montréal. The project also took root thanks to participation by the Ville-Marie borough, Ville de Montréal, the Québec government, the Foundation of Greater Montréal and Énergir. The greenhouse is the visible link in unifying public, private and community involvement. An inspiration for future projects.
 Summer salad from the Quartier Nourricier greenhouse for two

You love strawberries! Enhance their sweetness with the peppery flavour of arugula and balsamic vinegar to add depth and acidity!
1 handful of arugula microgreens from the Quartier Nourricier greenhouse
4 leaves of lettuce from the Montérégie fields
8 to 12 ripe strawberries
6 to 8 cherry tomatoes
A drizzle of balsamic vinegar
A drizzle of olive oil
A few fresh basil leaves
You may also like...