10 things to do in the Centre-Sud, a neighbourhood to discover!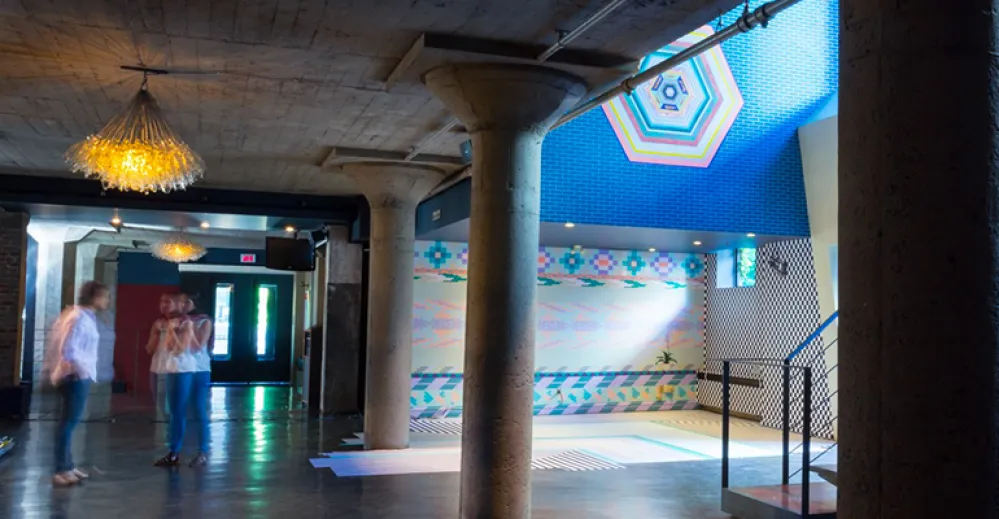 Are you familiar with the Centre-Sud neighbourhood? Located to the east of downtown Montréal, between the Plateau-Mont-Royal and Mercier–Hochelaga-Maisonneuve neighbourhoods, this district bears the marks of the city's industrial past. It may not be the first place you think of when it comes to arts, culture, community life or entertainment. But this neighbourhood is bursting with vibrant activities, places and projects sustained by a dynamic, creative and daring community, as well as regular citizens who are proud of their part of town. We've put together a list of ten things you should absolutely do in the Centre-Sud neighbourhood.
1. City farm
The Quartier nourricier greenhouse opened in May 2017 with the aim of helping the neighbourhood's residents improve their diets. There, you can find plants for your own vegetable garden and participate in weekly citizen-led events on nutrition and urban agriculture. Activities and training workshops are also held for local youth.
2. Theatre for all!
Located in a former fire station near the Jacques-Cartier Bridge, Espace Libre is a theatre that's inspired by the neighbourhood around it, showcasing the traditions of solidarity, struggle and change that run through Centre-Sud's history. Once again this year, theatregoers can expect a rich and diverse season, with no fewer than twelve plays scheduled!
3. Current of change
A stone's throw from the Jacques-Cartier bridge, on the shore of the Saint Lawrence, you'll find the Village au Pied-du-Courant, which bills itself as an urban living lab. Each year, this free-entry space comes to life at the hands of designers, visual artists and theatre professionals, as well as citizens. There, you'll find a variety of activities and shows for families, children and seniors.
4. A story to tell
A "history museum and citizens' museum," Écomusée du fier monde, located on Amherst Street, is an homage to Centre-Sud's history and heritage. There, you can view a variety of collections, including an ecomuseum collection made up of urban heritage elements, as well as exhibitions such as "Nourrir le quartier, nourrir la ville" [feed the neighbourhood, feed the city] (until February 4, 2018), which tells the story of Montréalers' eating habits over the past 200 years.
5. A different kind of market
Born of a citizen-led initiative, Marché solidaire Frontenac is a seasonal market that gives the neighbourhood's residents access to fresh, healthy food at an affordable price. Located on the esplanade just outside the Frontenac métro station from May to December, the market favours local and hyper-local products and offers a discount to residents who volunteer there at least four hours per month.
6. House of culture
Located on Ontario Street East in the Ville-Marie borough, the is one of Centre-Sud's cultural and artistic hubs. There, you can enjoy operas, plays, concerts and dance performances, as well as exhibitions, conferences and family activities—all for free!
7. Fair trade coffee
Coop Café Touski (or "the Touski"), on Ontario Street East, is a bona fide Centre-Sud institution. Is it because it offers healthy food for great prices? Its warm, family-friendly atmosphere? The public arts evening and citizen-led events? Maybe it's all those reasons at once! In any case, there's no better place than the Touski to immerse yourself in the neighbourhood's vibe!
8. Put your thinking cap on
Échappe-toi Montréal on Larivière Street is a must-visit for bringing out the Sherlock Holmes in all of us! This multi-room complex offers immersive experiences inspired by the history of Montréal. You'll be called on to solve riddles, escape from prison, investigate shady goings-on or even hunt for treasure. It's a great—and unique—way to have fun with your family, friends or co-workers!
9. Blissful brews
If you're mad about hops or simply love a good beer, there's a place on Ontario Street you should really try: Station Ho.st, the showroom of Québec microbrewery Hopfenstark. There, you can sample quality beers brewed in the province, as well as a selection of other products from here and abroad—all in a relaxed atmosphere that sets the stage for delicious discoveries.
10. Dream factory
Housed in a former jam factory on Lalonde Avenue, Usine C is a multidisciplinary creative and performance centre that presents hybrid works drawing from theatre, dance, music and media arts. It's the ideal spot to discover the latest artistic trends through performances by some of the greatest creators from Québec, Canada and around the world. Since 2002, Usine C has also been a co-presenter of Elektra, an electronic music festival.
You may also like...