Spotlight on Nadia Myre, a committed Algonquin artist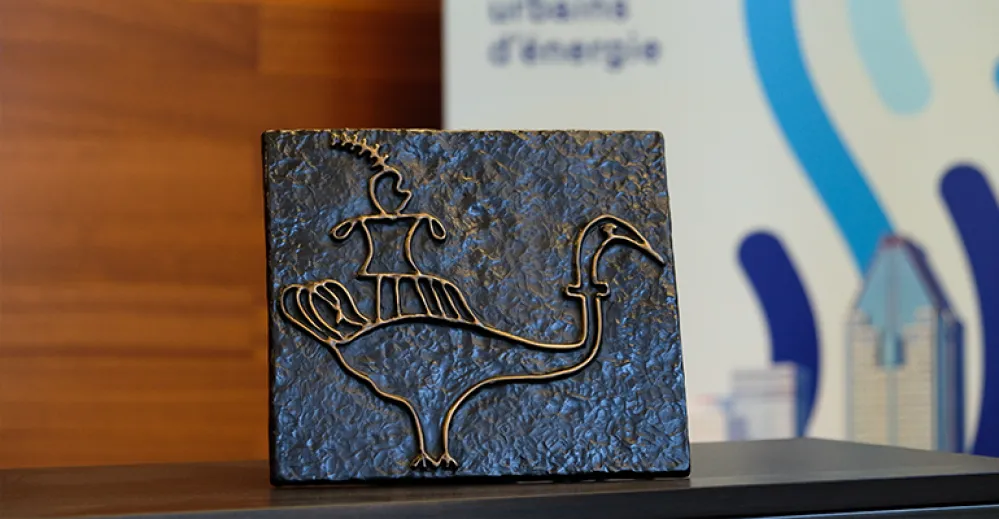 June 21 is National Aboriginal Day. It is a special occasion to celebrate the unique heritage and achievements of First Nations, Inuit and Métis peoples.
A tradition in our Corrid'Art
At Énergir's head office, the long hallway housing our meeting rooms is also nicknamed the Corrid'Art, since we exhibit works by various artists throughout the year following different themes. And since June 21, 2017, the Summer season begins with an exhibition of paintings by Aboriginal artists in collaboration with Les Productions Feux sacrés, a cultural organization that promotes Aboriginal artists, while fostering their economic, personal, professional, artistic and social development. This year, circumstances do not allow us to present Aboriginal artworks in our offices as normal. But that won't stop us from celebrating Aboriginal art by sharing Nadia Myre's public art project with you!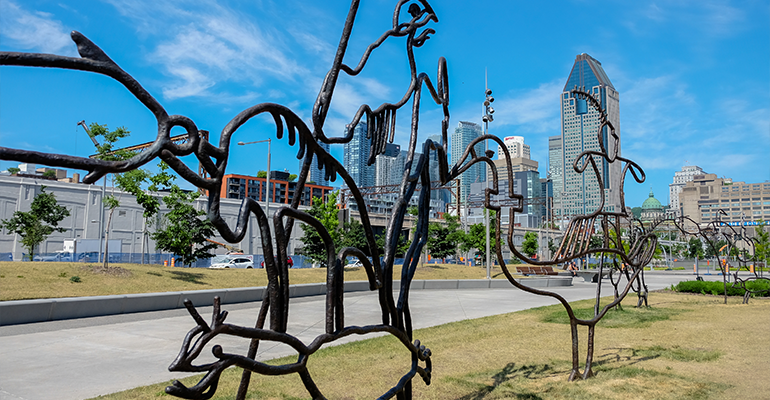 An important piece of art for the Montreal landscape
The sculptural public art project While Waiting, created by Algonquin artist Nadia Myre, is one of the most important works of Aboriginal public art in Montreal in the last 50 years. Installed in 2019 on Bonaventure Island, the grassed space between William and Ottawa Streets in Montreal, the work highlights a historic event that took place on the site itself on August 4, 1701: The Great Peace of Montreal. It was at this time that the 39 Aboriginal nations gathered to sign a peace agreement with New France. The Algonquin artist, a member of the Kitigan Zibi Anishinaabeg Nation, was naturally interested in this important event in the history of the First Nations and of Montreal. Our colleagues at Énergir urban heating and cooling are fortunate to have a direct view of the park where the work is located. And it inspired them!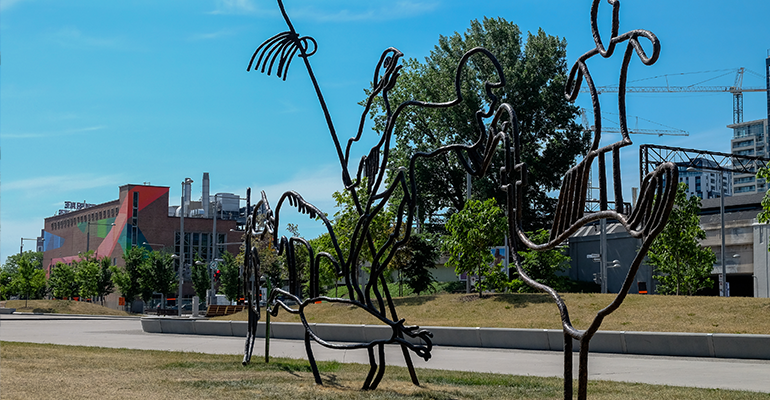 Bringing art to life everywhere
Our colleagues at Énergir urban heating and cooling have recently obtained a composition by Nadia Myre on a bronze plaque featuring the signatures of some of the leaders of the nations involved in the treaty. The work is a bas-relief created from the mould used for the sculptures in the park across the street. It was forged at the Darling Foundry, a building next door to Énergir urban heating and cooling, where artist Nadia Myre has been working in a studio for the past three years, from 2016 to 2019.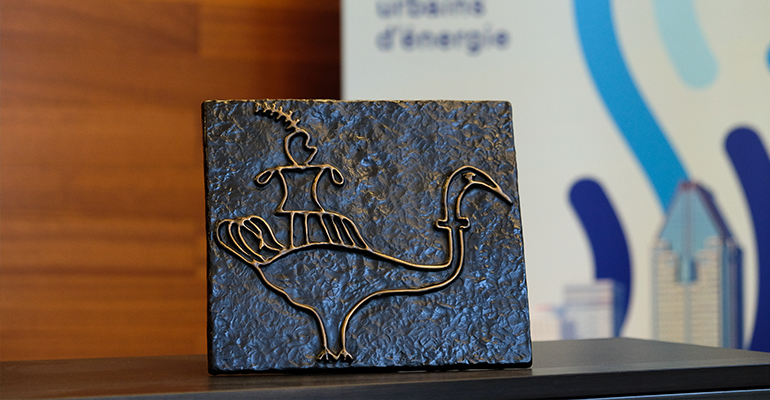 Discover more about the artist Nadia Myre and her work by visiting her website. And why not take the opportunity to discover the magnificent work of artists previously exhibited in our offices?
June 2017 | Classic Rock exhibition by Sioux artist Riel Benn, with a series of paintings featuring both Aboriginal art and the rock bands of his teenage years.
June 2018 | Anatole St-Onge's Tepentemun exhibition showcasing the vast artistic culture of the First Nations.
June 2019 | Woodland exhibition by Frank Polson, an artist from Témiscamingue representing stories of human beings, spirits, animals and plants.
You may also like...