Énergir urban heating and cooling: a beautification project that thinks outside the box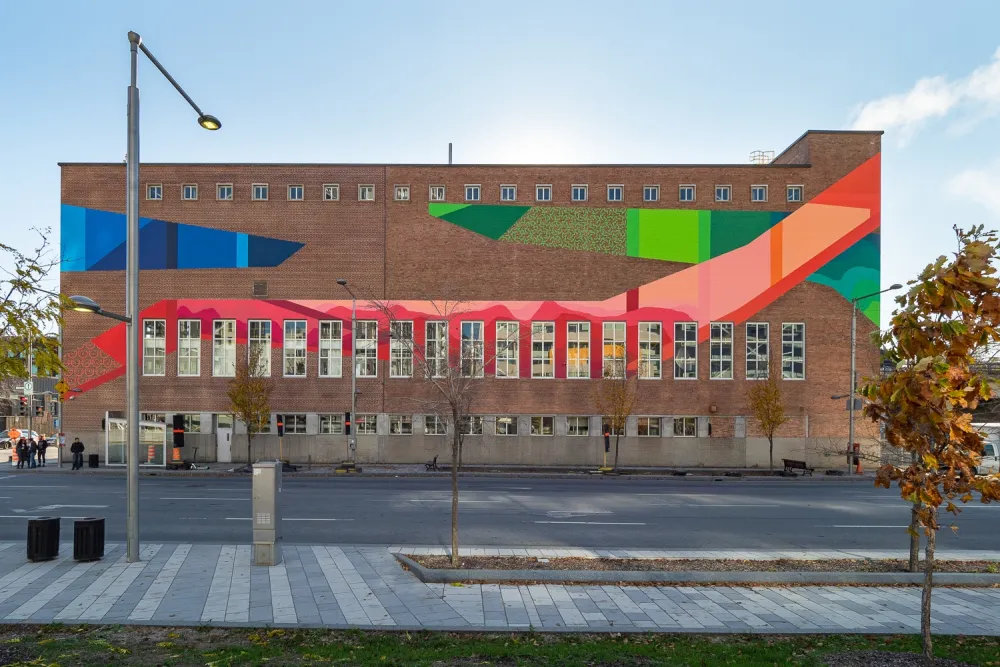 Most Montréalers are very familiar with the Bonaventure Expressway, considered one of the gateways to downtown Montréal. A few years ago, the City took on a major renovation project to build a new development that mirrors the metropolis, featuring green spaces and works of art. Lowering the highway also unveiled neighbouring buildings.
Located at the corner of Robert-Bourassa Boulevard and Wellington Street, the Énergir urban heating and cooling (ÉCCU) building, which had long been hidden by the highway, was suddenly revealed to Montréalers. Inspired by the neighbourhood's re-landscaping, we decided to carry out a beautification project that would showcase the building, its architecture, history and role.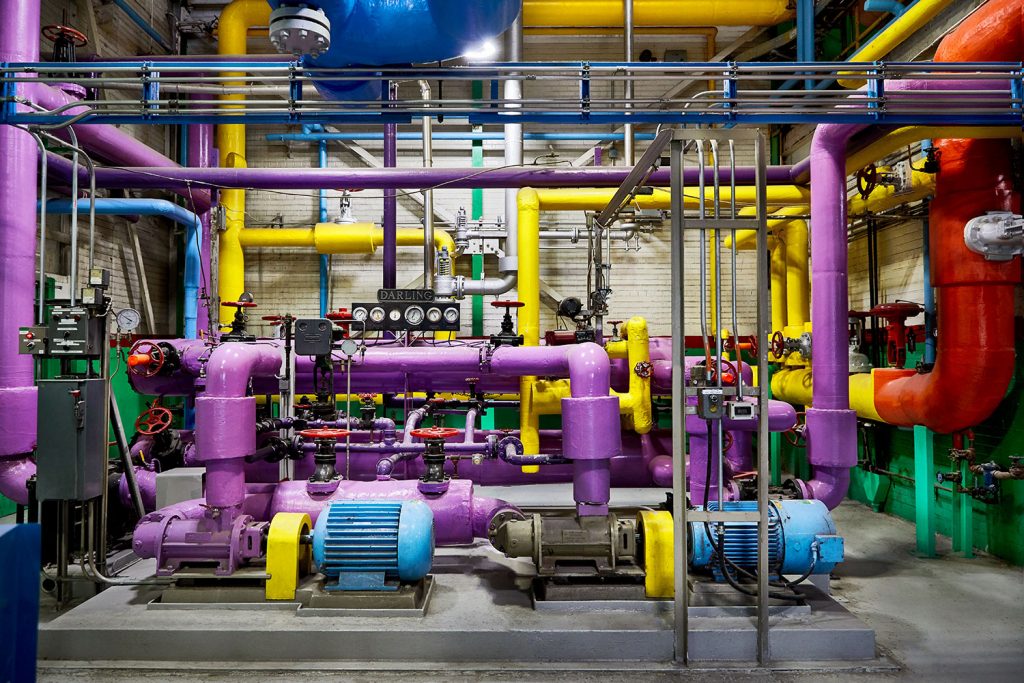 Énergir urban heating and cooling
In continuous operation since its creation in 1947, ÉCCU operates three distinct steam, hot water and cold water underground networks. It meets the heating and cooling needs of a downtown area of more than 1.8 m2 of multi-purpose buildings, such as the École de technologie supérieure (ÉTS), Place Bonaventure and 1000 de la Gauchetière. It is also the second-largest energy network in Canada! With a view to optimizing its energy consumption, ÉCCU has made it its mission to promote energy efficiency, particularly by means of energy recovery and solar panel installation projects. Historical, yet modern, this building will be more visible than ever!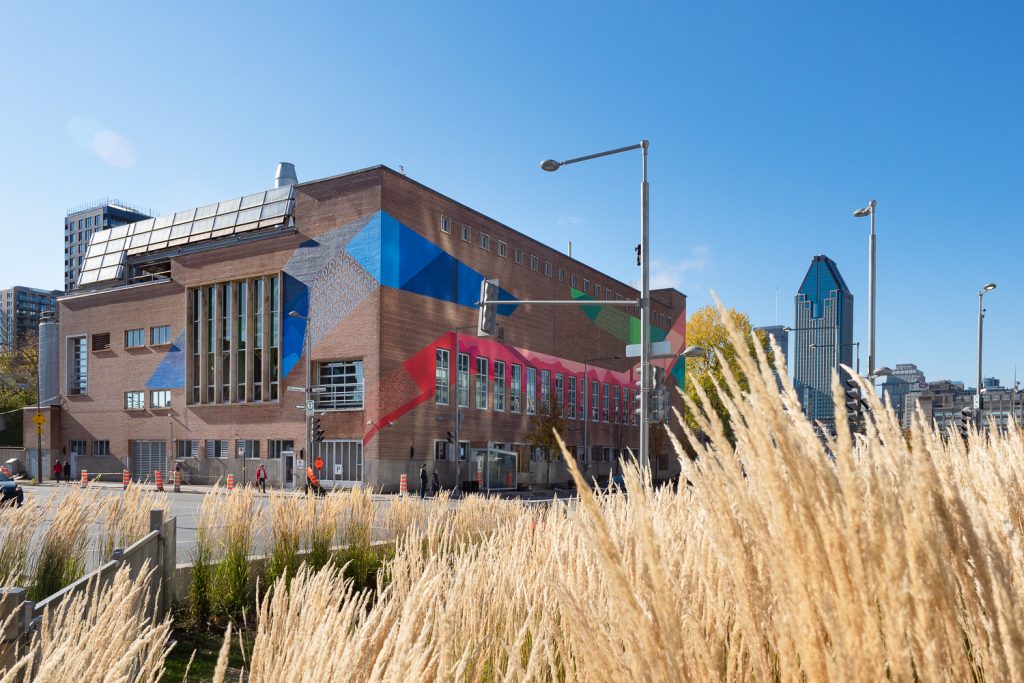 A Griffintown-inspired mural
The mural was painted by MU, a non-profit organization that transforms Montréal's public spaces by painting murals that are anchored in local communities. Entitled Strates, the work was created by artist Ilana Pichon, and complements the Bonaventure Park art corridor, enhancing the new face of the neighbourhood. The work depicts the plant's three underground networks, multiple pipes in a variety of bright colours, as well as the machinery found inside the building. The giant graphic forms unify the building's facades and attest to the evolution of this metamorphosed district over time.
"We are proud to contribute to Montréal's urban landscape by means of a vibrant work of art that portrays the nature and history of this building, which has been ensuring the comfort of thousands of people by providing reliable, sustainable energy for more than 70 years,"

said Stéphanie Trudeau, Senior Vice President, Customers and Operations at Énergir and Chair of ÉCCU's Board of Directors.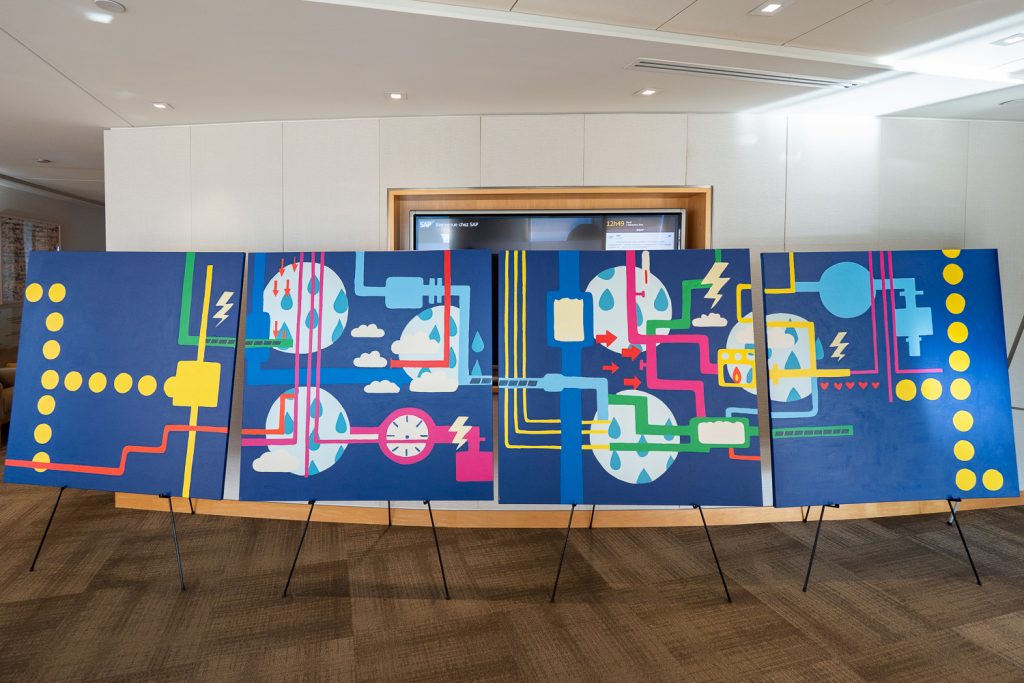 A colourful community project
MU's educational mission is to allow today's youth to use mural art to express themselves. Thus, in parallel to their mural projects, the MU team continues to lead community projects, one of the reasons that led to our collaboration. Thanks to the involvement of Atelier 850, youth between the ages of 8 and 12 in the Petite-Bourgogne neighbourhood had the opportunity to visit ÉCCU with artist Ilana Pichon and create a work of art inspired by the installation. The result? A vibrant and energizing painting we are pleased to display at our corporate offices. Entitled "Arcade thermique" (thermal arcade), youth from Atelier 850 used video game codes to represent the ÉCCU plant's vision in a fun, colourful way.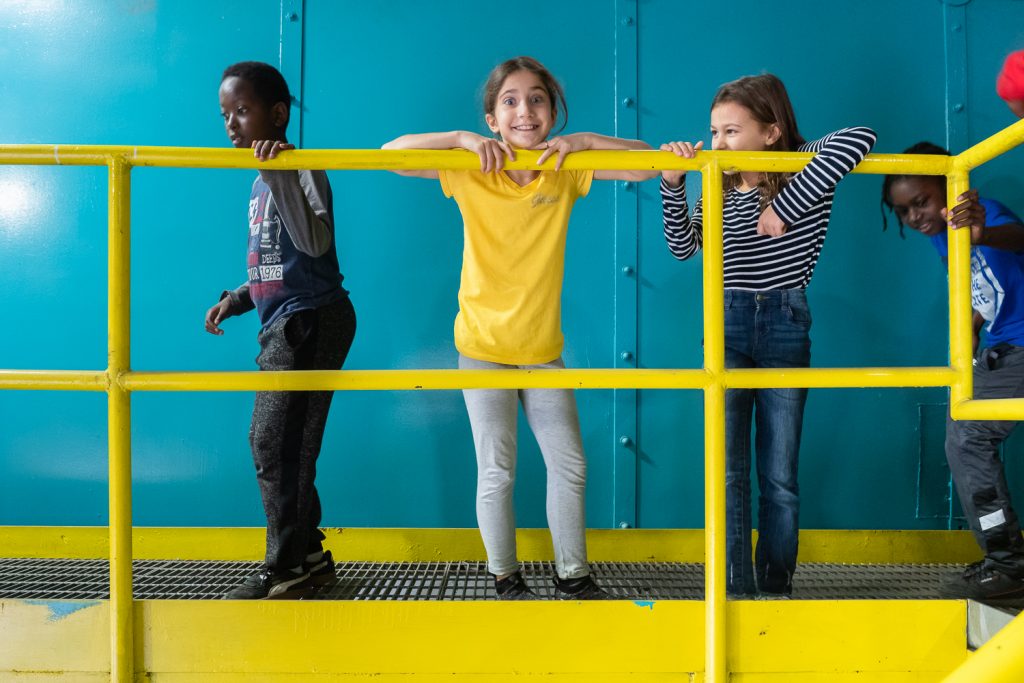 Even more colours to come
The mural is also part of the ÉCCU's overall beautification project, which will include a window lighting and greening phase in 2020. To be carried out by Soverdi, first part of the greening component will consist in planting trees on the bank behind the building. A community planting event will also be organized! For the second part, the ÉCCU parking lot will be redesigned not only to make it greener, but also so it blends better into the neighbourhood, particularly the park across the road.
By means of this artistic, environmental, community project, we want to give back to the Montréal community while enhancing this prominent building at the city's entrance. This project will be an Énergir legacy, one which shows that we and our subsidiaries are committed to imagining energy differently.
You may also like...