Celsius: Citizens reinvent heating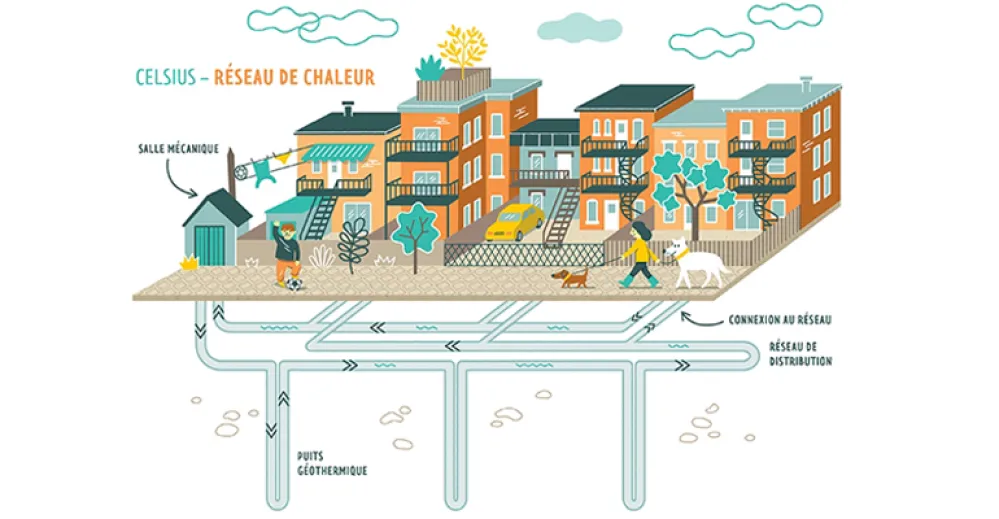 Somewhere in the Rosemont–La Petite-Patrie neighbourhood, a sustainable and innovative energy project is almost in motion. Known as Celsius, it is piloted by a group of motivated and visionary citizens who are striving to reduce their carbon footprint and enhance social ties by inventing the community-based heating solution of tomorrow.
A community bursting with energy
After successfully completing a green alley project in 2015, this group of residents created Solon, a non-profit organization dedicated to improving living environments and fighting climate change (they named it after one of the fathers of democracy in ancient Athens). Inspired by the success of their first initiative, several members wanted to meet a more complex challenge: energy.
Natural geothermal energy
The idea? To create a local and renewable heating and cooling infrastructure that would allow residents to reduce their consumption of electricity and fossil fuels—and by extension, their greenhouse gas emissions (GHGs)—by employing geothermal technology, which involves harnessing the Earth's natural heat below the surface. By means of vertical wells of 150 to 200 metres deep and a distribution network that uses a heat-transfer liquid (water, in this case), the heat would be captured below ground, then distributed and diffused into homes by a system of pipes connected to a heat pump.
Make way for the alleys!
Supported by Coop Carbone, a cooperative that supports businesses and communities seeking to reduce GHGs, and by several other partners, including Énergir, Solon took on a feasibility study for the Celsius project in 2017–2018. Its objective was to identify pilot alleys for the project's initial deployment, and to conduct a techno-economic assessment of each potential location. At the end of this process, three alleys were identified: Saint-Marc (1st Avenue and 2nd Avenue / Beaubien-Bellechasse), Prov-herbes (6th Avenue and 7th Avenue / Holt-Dandurand) and Cuvillier (Alywin / Rachel-Sherbrooke).
Citizen support at the heart of decisions
These locations were selected based on the study results concerning not only its feasibility and environmental benefits, but also its social acceptability and the mobilization of citizens, the initiative's primary stakeholders. Given the positive technical findings and the enthusiasm of residents and the borough (which financially supports the project), Solon launched the second phase of the Celsius project in summer 2018: the operational study and business plan. This next step will elucidate residents' heating needs and the project cost for participating sites.
An inspiring model
Scheduled for 2019–2020, the construction of the geothermal network will involve re-landscaping and enhancing the pilot alleys. At the same time, Solon will develop a business model to support the creation of a cooperative in charge of the operation, maintenance and management of the energy infrastructure. A first in North America, this model will foster users' participation in decisions as well as the repeatability of the pilot project.
Empowering change, one project at a time
Énergir's participation in the feasibility study reflects its desire to act as a facilitator within the community. As part of its Community Investment Policy, Énergir encourages and supports citizens' initiatives such as the Celsius project that promote energy collaboration, the use of renewable energy and the fight against climate change.
You may also like...