Saving energy while keeping customers comfortable: the winning recipe at Marchés IGA Lambert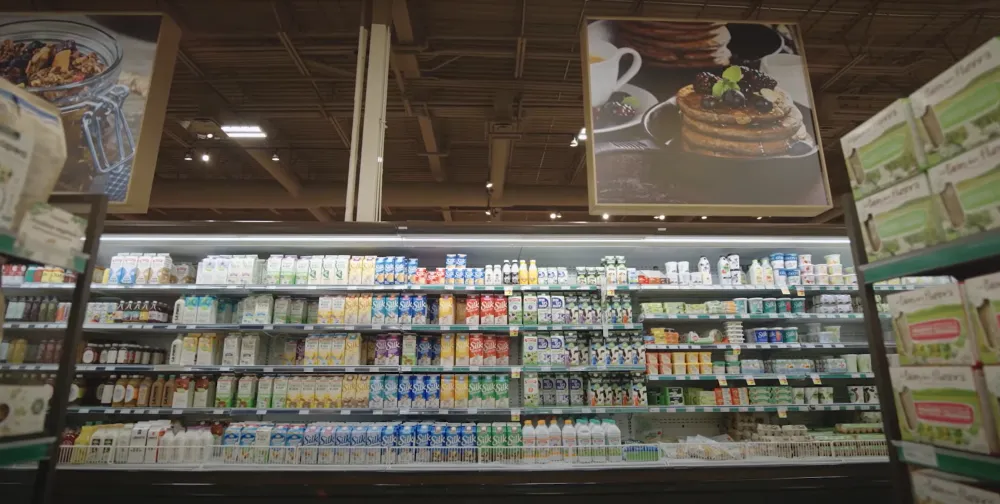 Marchés IGA Lambert, like many other supermarkets in this well-known Québec grocery chain, uses heat recovery to reduce its energy bills and GHG emissions at the same time.
Making hot out of cold
"Since the beginning, we've been implementing all kinds of efficiency measures to make our stores more energy efficient. Heat recovery enables us to redistribute the hot air discharged by our cooling systems to heat indoor air, ensuring customers are comfortable while saving energy," explains Guillaume Lambert, director of real estate management and development at Marchés IGA Lambert.
A strategy that pays off
It's worth nothing that in many stores, the operating costs of refrigerators are higher than heating costs. "In a single store, we can have up to 70,000 people a week opening freezer doors, not to mention open refrigeration units," explains Guillaume Lambert. But to stay cold, a refrigerator (or freezer) must extract and remove heat. By installing a heat recovery system, you can capture that energy and reuse it to consume less and better.
Proven efficiency
"These systems are highly efficient," says Paul Théroux, president of Groupe CME experts-conseils, the engineering firm that helped Marchés IGA Lambert install its heat recovery systems. "For example, much of the heat used in winter to heat the entrance structures—high-demand areas—comes from heat recovered from refrigerators."
For Paul Théroux, this technology is set to become more widespread, given its many advantages: "People are open to it, they see that it works. I think it's going to be the norm in the next few years," he says.
Continuous improvement
Guillaume Lambert agrees, looking ahead to an even more energy-efficient future: "With heat recovery, we have a product that will be sustainable over time and help us use energy more efficiently. I can't wait to see the technologies that will be added to it—artificial intelligence, autonomous management, and new subsystems. To make our stores even more energy efficient, the possibilities are endless."
By supporting energy efficiency projects like the one at Marchés IGA Lambert across Québec, Énergir helps entrepreneurs save energy and prevent the emission of thousands of tonnes of GHGs.