Choosing the right kitchen faucet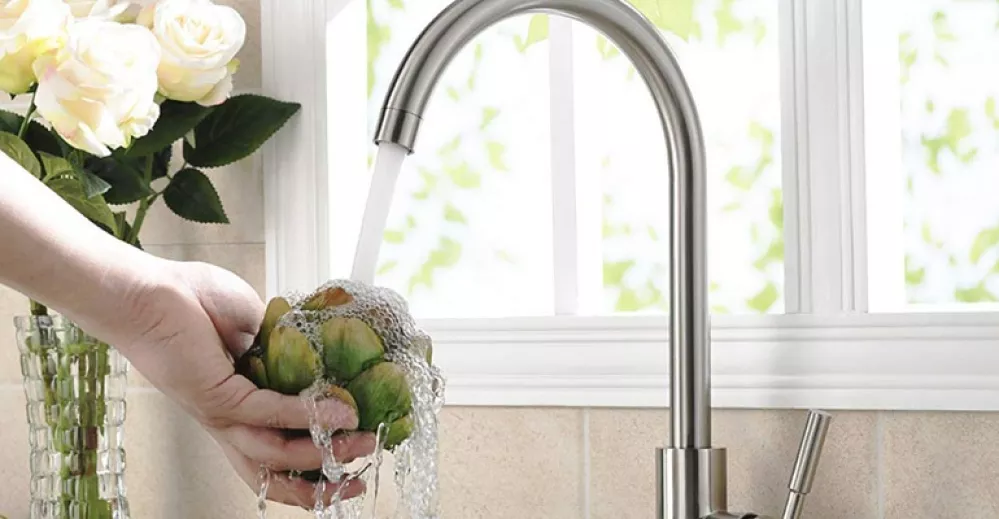 A faucet is an essential piece of kitchen equipment that is used several times a day while cooking, in particular for rinsing items and washing dishes. The larger the family the more it is put to the test throughout the day. So, it's important to choose a faucet that is durable. But is this the only criteria to consider when choosing a faucet system?
This plumbing device used for turning water on and off is made up of three separate parts: the spout—the most visible part available in varying sizes—for dispensing water; the aerator (or anti-splash nozzle)—fitted to the tip of the spout and equipped with a filter—for mixing water with air to create a flow of water; and the handle—the interactive element that allows us to turn water on and off and to adjust the temperature. These elements tend to be universal. However, what does vary from one company to another are the technology, style, water-saving properties and, of course, the price. Here are four more factors to consider before buying.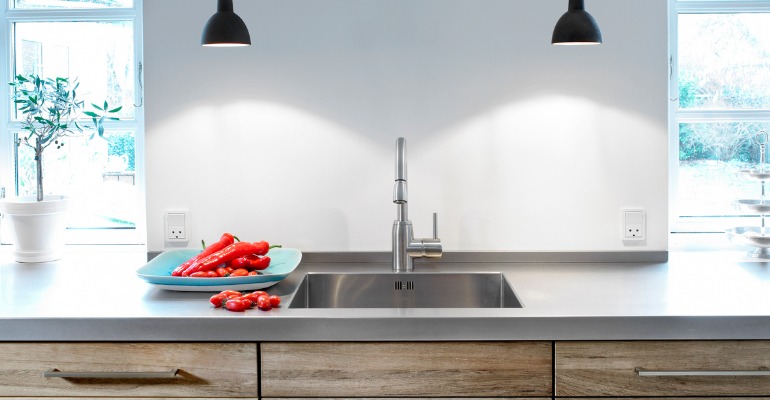 Technology
While kitchen faucet components have changed very little since the 19th century, activation mechanisms have made huge strides in the past few decades with touch-on and touchless technologies.
MotionSense technology: Featuring a wave sensor, the touchless faucet can be activated by simply passing your hand across the sensor. Moen's Align faucet is a good example of this technology.
Touch functionality: With this, the faucet can be turned on and off with a simple touch on the faucet dial window. American Standard's Beale model offers this technology at an affordable price.
Source
Style
A choice of classic, modern or retro, gooseneck or short arc, chef-style or pull-out spout, wall mounted, with one, two or three-hole installation, not to mention a wide range of design finishes—the possibilities are endless. To choose what suits you best, use the funnel method to narrow down the possibilities.
First, decide on the style: country, modern, industrial or gastropub. Then consider your budget. The other options can easily be eliminated by looking at the type of sink you already have or plan to buy. The number of holes will be a determining factor.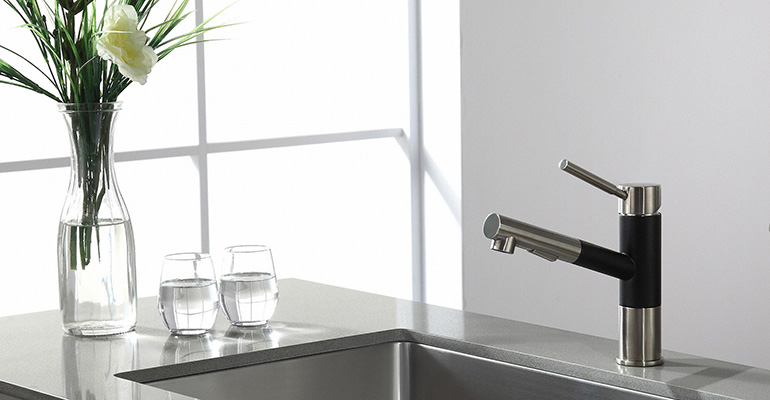 Source
Lastly, take time to think about the type of finish as well as the colour and look you like the most. Geo Axis by Kraus combines two types of finishes for a modern, timeless look.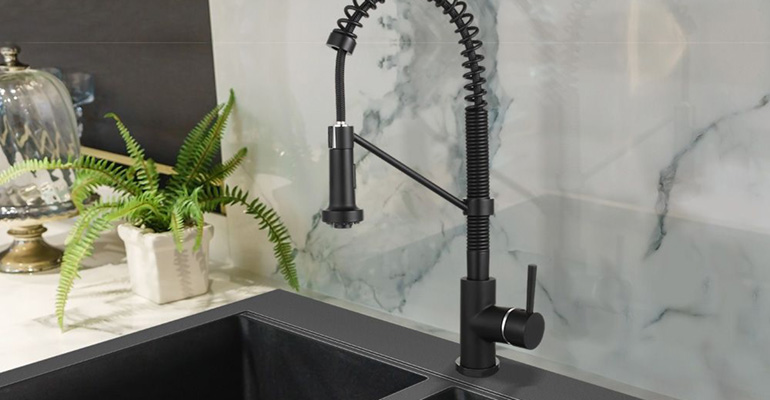 Source
Water-saving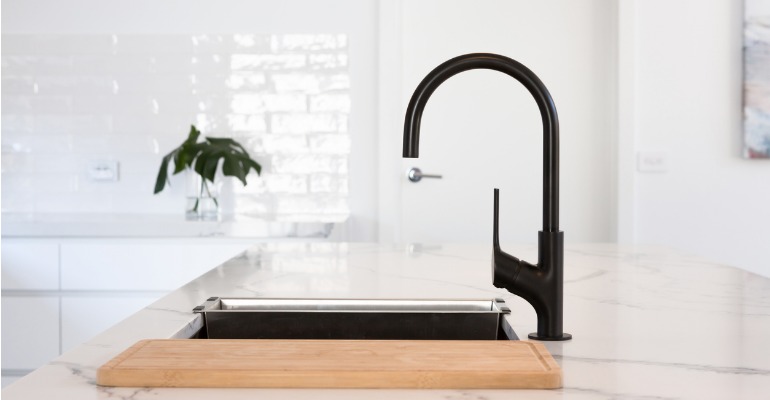 A desire to reduce water consumption on a daily basis transcends all trends. This is a sound, ecological way of using and spending less. Keep an eye out for "eco friendly" faucets or those equipped with an aerator (anti-splash nozzle). By mixing air with water, they restrict water flow through the faucet. If your existing faucet is not equipped with this device, you can buy a swivel kitchen WaterSense faucet aerator from many good retailers and DIY stores, and on the Internet. In addition to saving hot water, you will save energy and money too!
Price
Style and water-savings apart, you can pay as much or as little as you like for design kitchen faucets. Don't forget that each high-tech feature you add translates into a heftier bill.
That said, something that costs less doesn't mean that your faucet won't be stylish. At less than $90, this Vapsint model is a sure bet.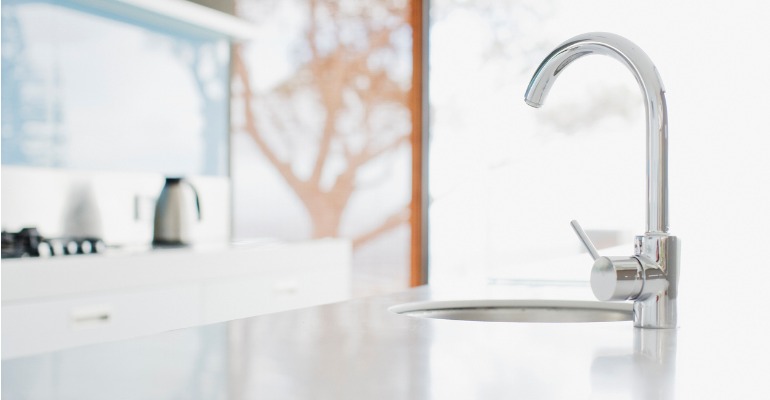 Regardless of style or budget, reducing water consumption is a universal concern among consumers. Shopping with consideration for the environment will enable you to make the best cost-effective, sustainable choice.
You may also like...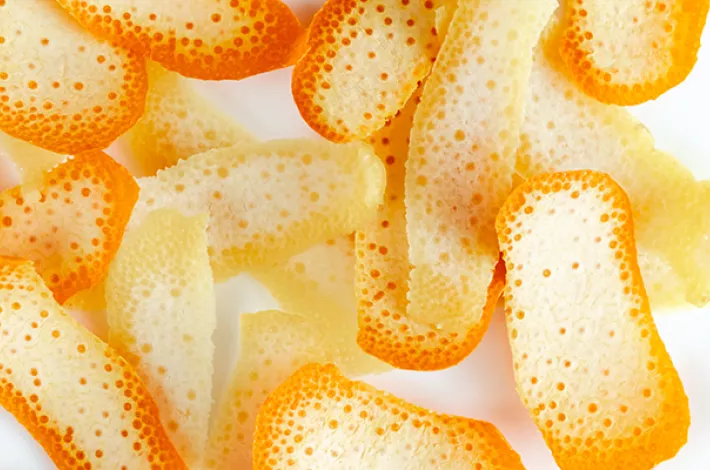 Orange and lemon peels: versatility plus!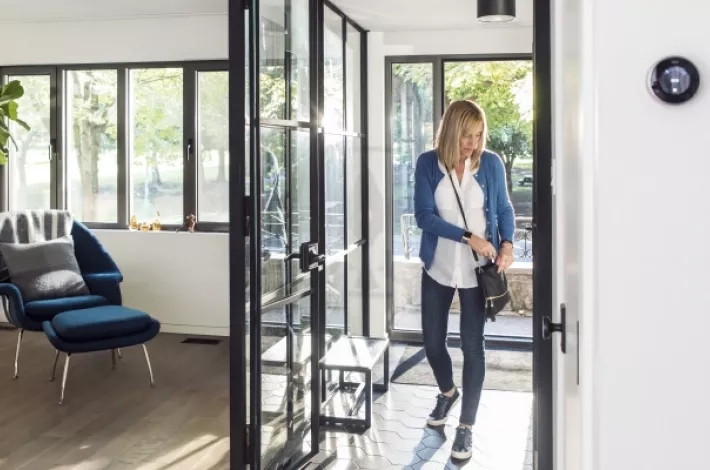 Energy efficiency at home: Anyone can do it!